Ratibida pinnata 2½" long, bright golden petals droop gracefully from large central cones atop tall, 4-6'high, sturdy stems, July-September. Foliage is restricted to the lower half of the stem so that the large, distinctive flowers resemble pennants fluttering at the ends of long sticks. Native to prairies and meadows of the upper Midwestern US where it has developed the essential lifesaving skills of drought and cold tolerance. Makes an easy to grow, large, long blooming and beautiful statement at the back of the hot sunny border. Also a must-have in the meadow garden. Native, attracts butterflies, nice for cutting, deer resistant. Zone 4.
Rhuem palmatum var. tanguticum (Ornamental Rhubarb) Large, beautifully crafted leaves, green on top, flushing bright burgundy on the under sides, burgundy petioles. Clumps may reach 6' across, with flower stalks rising to 6' high bearing rosy pink to white panicles. Plants explode out of the ground in spring and expand so rapidly that you can almost see them growing! Rich, organic, consistently moist soil is required for plants to reach their full ornamental impact. For sun to light shade. A good choice for pond, and stream side plantings. Also consistently wet, even boggy areas, places where Ligularia 'The Rocket' would be happy. Zone 5.
Rodgersia Native to China and Japan, Rodgersia are large plants with large compound leaves. All are moisture and part, to full shade lovers, and will look their best only when these conditions are met. Ideal sites are bogs, pond or brook sides and water gardens. Flowers are white or light to dark pink and occur in astilbe-like panicles in early summer. 3-4ft. tall and, in time, 5ft. wide. Bold and spectacular when in favored locations. Zone 5.




'Fireworks' Leaves emerge deep burgundy and fade to dark green with red edges, and clear, deep pink flowers in summer. 1 1/2ft. tall. Zone 5. Forms an impressive clump with large, compound, beautifully colored foliage that, by itself, would make this plant desirable. Best in part shade with consistent moisture. One of the best for brining size and contrasting texture to the moist, shady garden.

pinnata 'Superba' Branched panicles of tiny true pink flowers, reminiscent of larger and looser Astilbe blooms, rise on well-branched 40" stems in late spring-early summer. Large , pinnate leaves are often bronzy in spring. Very attractive in a waterside planting. Spreads out quite a bit, so only a few are needed for quite a show. Zone 5.

tabularis see under Woodland Flowers
Rudbeckia fulgida 'Goldsturm' (Black-eyed Susan) Gold daisies in late summer, 2', 1999 PPA Perennial Plant of the Year. Zone 4.
Rudbeckia fulgida 'Little Goldstar' A dwarf cultivar,12" high by 20" wide with deep green foliage that remains clean throughout the summer, and golden yellow, brown-eyed daisies that bloom from mid-summer on into autumn. It's a tidy, well behaved plant suitable for many garden uses such as at the front of mixed borders, in smaller areas, in containers and in prairie style gardens. Looks great in large groups. It's compact yet vigorous habit, clean foliage and continual flowering make this a choice addition to any garden. Best in full sun, with good drainage, quite drought tolerant once established. Zone 3.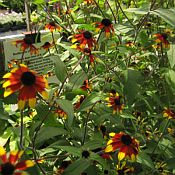 Rudbeckia triloba 'Prairie Glow' We've always been fans of R. triloba for its long bloom and indestructible constitution so we're really excited about 'Prairie Glow' which, like R. triloba, blooms profusely from mid summer till fall, but with larger, orange/red flowers with petals tipped yellow, instead of all yellow flowers. 4' tall. Does well in moist or dry, fertile or poor soil. A naturalizing, self seeding biennial or short-lived perennial. Easy in all soils except those that are too wet. This is a blooming engine that knows no restraint, injecting bright daubs of color into the border or meadow in an endless flow of bloom. Zone 4.